PARTNERS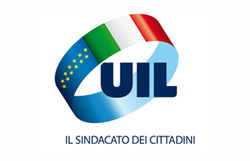 Unione Italiana del Lavoro (UIL – Italy), is the trade union confederation of workers and retired people of any belief, creed, political and ethnical belonging affiliated for the defense of rights and common professional, economic social and moral interests. Thanks to its more than 2 million members, UIL is the third Italian trade union confederation.
Its representation is expressed both at a horizontal level, through Regional unions and 107 provincial union chambers, and the structures for assistance and protection of workers and retired people; at a vertical level, with 17 industry-wide.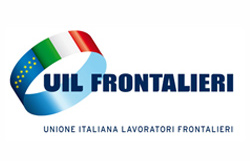 L'Unione Italiana Lavoratori Frontalieri (UIL Frontalieri), is the trade union organization established upon the initiative of the UIL to protect and represent cross-border workers. The UIL FRONTALIERI in Italy is the only trade union structure with a national character that organizes and represents all cross-border workers in different areas of the Italian border, also thanks to its broad range of services (information and help for tax, social security and labor market matters).
In order to provide adequate protection for cross-border workers, UIL FRONTALIERI has developed close cooperation relations with all trade unions at the borders: the peculiar condition of these workers - across two countries - requires to cooperate at the borders, in order to ensure a protection regarding contracts in the workplaces - which is a prerogative of trade unions in the border countries - and, in particular, with regard to the rights related to the welfare system (e.g., unemployment, health care) or foreign tax authorities.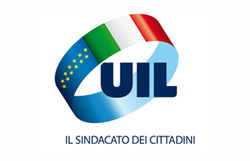 L'Unione Regionale UIL Friuli Venezia Giulia (UIL FGV) is the Friuli Venezia Giulia regional level of the Trade Union Confederation UIL. It pursues the same objectives and provides users with the same services of the national UIL but in the territory of Friuli Venezia Giulia. The history of trade union activity in the region begins in 1945 with the creation of the Confederation Chamber of Labour of Trieste, the democratic organization arisen from the initiative of Patriotic Partisans of Republican, Socialist, Liberal and Catholic inspiration, whom proclaimed the insurrection of the city against the Nazi-fascists. In 1966, the Catholic component left, and then the Confederation Chamber of Labour of Trieste joined nationally and exclusively to the UIL. Since the Sixties, the UIL began to entrench its presence in the provinces of Friuli Venezia Giulia, to create, in October 1974 UIL Regional Union of Friuli Venezia Giulia, articulated in the Confederation Chamber of Labour in Trieste and Trade Unions Provincial Chambers in the Gorizia, Pordenone and Udine. Currently, the UIL Friuli Venezia Giulia (2011 data) has 33,699 subscribers.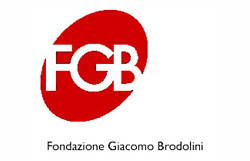 Fondazione Giacomo Brodolini (FGB – Italy), is an Italian research Institute whose studies are focused on: Welfare/Social Policies, Growth and Development, Industrial Relations, Labour Market and Human Capital.
FGB was established in April 1971 in order to carry on the social and cultural work started up by the ex-minister of Labor, Giacomo Brodolini. The Giacomo Brodolini Foundation is engaged in carrying out research activity and cultural promotion by adopting a precise scientific method and an interdisciplinary approach meant to foster the dialogue and the continuous exchange between the social forces involved Since 2003 the FGB has been cooperating with European Trade Union Institute (ETUI) and is part of the international research network IWPLMS (International Working Party on Labour Market Segmentation and RLDWL). Since 2000 the FGB has been providing technical assistance to DG Employment and Social Affairs of the European Commission for the evaluation of Italian National Reform Programme within the Sysdem Network and is the Italian member of the European Employment Observatory (EEO).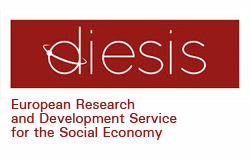 Since 1997 DIESIS has supported the development of the social economy in Europe through the implementation of knowledge-based activities, such as training, project design, consultancy and advisory services, technical assistance and research.
DIESIS's members represent a network of thousands of enterprises all over Europe. DIESIS works in partnership with European thematic networks and platforms such as REVES, Social Economy Europe, CECOP, EMES and EAPN. It is a member of the OECD LEED Programme and of the European Alliance for Innovation. Its main fields of action are: Social integration, Active citizenship, Social housing, Participatory democracy, Social dialogue, Sustainable energy, Local development, Gender equality, Fighting poverty and discrimination, Sustainable and social tourism, Social enterprise development.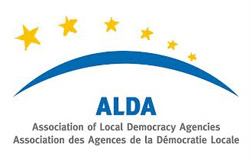 The Association of Local Democracy Agencies (ALDA),
is a non-governmental organization dedicated to the promotion of good governance and citizen participation at the local level. It works both in Europe in European neighbouring countries to promote citizens' participation in public life and European Policies. Within the framework of promoting good governance and citizen participation at the local level, ALDA focuses on various themes such as European integration, civic initiatives, youth involvement, human rights, immigration, equal opportunities, sustainable economic development and volunteering. ALDA is a membership based organization gathering more than 160 members (including Local Authorities, Non-Governmental Organizations, etc.) coming from more than 30 different countries. ALDA is funded through membership fees and project funding from the European Commission, the Council of Europe and other public and private donors.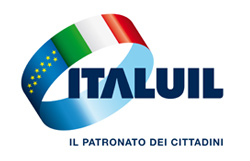 Ital Uil France, ITAL UIL (Institute of Protection and Assistance for Workers) is the Institution of assistance of Social Rights founded by UIL (Italian Labour Union). It performs its services in 27 countries in the world with more than 1000 offices and addresses both in Italy and abroad. In France for over 55 years, with offices in Lille, Wattrelos, Pantin, Macon, Thionville, Metz, Huningue, Nice and Marseille, ITAL UIL offers information and technical assistance on security social welfare, taxation, family law and inheritance to all those who need. The Patronage has been carrying out its activity for more than 50 years and performs a non-profit making "public utility service" towards employees, self-employed workers, pensioners, single Italian citizens also living abroad, foreigners and their survivors, for the attainment in Italy and abroad, of any kind of service inherent in social safety, immigration and emigration, supplied by administrations and public bodies, and by bodies administrating complementary welfare funds. Besides the assistance activity, ITAL-UIL performs for free protection and advisory on social security matter directed to the acknowledgement of the legislation, the operating support and the promotion of citizens interest in matter such as:
• Work: maternity and paternity leave, advisory and applications for facilitations of disabled workers and their families, extraordinary leave for assistance to disabled, etc;
• Welfare (Compulsory and Complementary welfare services): advisory and assistance for the acknowledgment of the right on any typology of pension supplied by INPS (Italian Social Security institution) and other Welfare Institutes, verification and application for income support welfare services, right verification and application for family treatments of workers and pensioners, verification and control of the accounts related to individual position and its settlement;
• Safety and Protection: advisory, information and safety promotion to protect citizens and workers health;
• Emigration and Immigration: protection of extra communitarian workers' rights through an assistance service of information on citizenship, stay, family, studies, social and welfare assistance also granted to their families living in Italy;
• Other Assistance and Social Services.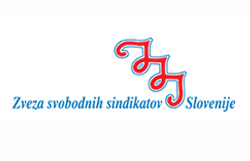 ZSSS's (Zveza Svobodnih Sindikatov Slovenije) representativeness and efforts to establish a high level of social dialogue give them the leverage to negotiate the contents of collective agreements and participate in the Economic and Social Council where they, together with the government, coordinate law proposals and other documents affecting workers. Social and other agreements related to salaries and specific economic and social affairs are concluded in the framework of a tripartite partnership. ZSSS has representatives in all social security institutions and three representatives in the national council.
ZSSS's goals are achieved through negotiations, agreements, strikes or mass manifestations. The advantage of ZSSS and its members over other trade union organizations is its regional union organization network that allows them to provide, in the entire territory of Slovenia, at their regional organizations' head offices and in a number of local trade union offices, legal, professional and other assistance to their members near their place of residence and work.
Since 1999 ZSSS remains the country's only full member of the European Trade Union.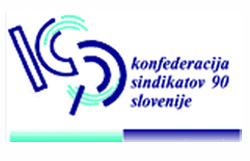 KS90 (Konfederacija sindikatov 90 Slovenije).
We will give effect to the social policy in the field of wages, the collective agreements and the social dialogue. In the field of wages we derive from a demand that when one works full time, he must not earn that little so that he needs a social help.
We connect the question of employment and unemployment with the complete labour legislation and the capability of state and employers.
Concluding of the collective agreements and assuring their respect will be still a part of the trade union activity. Respecting the collective agreements remains a standard for a legal and social state.
The momentary circumstances in Slovenia are not inclined to the security. Trade union Confederation 90 of Slovenia will place the security in important components of: labour productivity, cost of labour, competition and advantages of state economy.
We strive for social partnership as a prevailing way of confrontation of interests and solving conflicts.
Constitutional definition of Slovenia as a legal and welfare state is not sufficient. Trade union Confederation 90 of Slovenia will persist on a clear long-term definition of social and legal security.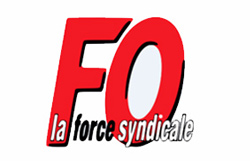 FO – Force Ouvrière. What is FO? Free women and men, together, in an independent organization to acquire strength to defend their rights, to get new ones, to get respect.
15,000 union locations (metropolitan and overseas territories) with 103 Departmental Unions in all sectors with 33 National Federations, grouped within the Confederation FO.
Target: grouping employees (active, retired and unemployed) beyond their political, religious or philosophical choices, to represent their common interests.
Keywords: Freedom, Democracy, Independence.
Conviction: the Trade Union is not suited to power, its role is to be a counterweight any power.
The independence lies at the heart of behavior of FO. This independence goes against political parties, governments, the state, employers, churches. Thus, in principle, FO takes no position on the occasion of political consultations.
Initially, at the union plan of many structures of welfare (National Inter-professional Union for Employment in Industry and inter-trade, pension schemes ....) FO has always held that the contract practice is an important tool to build collective rights at all levels (inter-industries, companies)
Basically connected to the Republican values ??(Liberty, Equality, Fraternity, Secularism), FO defends the public services and social security through structures providing equal rights to citizens.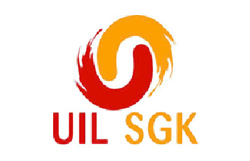 SGK-UIL The SGK-UIL trade union, the UIL Regional Union Chamber of the UIL- SGK of the Alto Adige Südtirol, has a long history of nearly 60 years. The SGK-UIL is the regional level of the of the UIL Union Confederation, which represents more than two million citizens, workers, employees and pensioners in the Italian State. In Alto Adige-Sudtirol the UIL-SGK trade union has acquired approximately 10,000 members of all the three language groups in this Autonomous Province, as well as a significant share of migrant workers, who have immigrated particularly over the last two decades from many E.U. member states, but also from the rest of the world. Its members include three fourths of employees and one fourth of pensioners. Therefore we have a much better active workers/pensioners ratio than the other union confederations of the Province of Bolzano-Bozen. Since the second half of the 1970s – and precisely since 1976 – the SGK-UIL union has enshrined the multi-language denomination in its Statute, by extending also the previous acronym UIL to UIL-SGK (Italian Labour Union-Südtiroler Gewerkschafts-Kammer). The UIL-SGK trade union includes 13 categories, 12 of which represent active workers and the remaining 1 represents pensioners. The UIL-SGK trade union has its own information and union training unit named UIL-SGK INFORM, with a circulation of 14,500 copies, which is regularly mailed to all members, but also to all the UIL Provincial Union Chambers and the various public entities and local authorities such as municipalities, provinces and regions. Thanks to the political autonomy status enjoyed by the Alto Adige-Südtirol, in close cooperation with the other Union Confederations, for more than a decade we have been trying to influence the provincial policy so as to achieve better management and social justice, also by means of consultation with the Provincial Council of Bolzano-Bozen.

Avec le soutien de la Commission Européenne
With the support of the European Commission